Lesson Plan One
Close Reading
Getting inside text to discover how writers use grammatical structures effectively. Learning grammar in context.
CCSS: Conventions of Standard English. Knowledge of Language.
Uncle Shorty is legend in my classroom. In the fall he visits and students never forget him. I start with the following passage from The Shirt by Gary Soto:
Uncle Shorty was back from the Korean War and living in our sunporch, his duffle bag in the corner, his ceramic Buddha laughing on the sill, his army uniform hanging like an invisible man on a hanger.
A close grammatical analysis reveals the following structures well worth studying: 
prepositional phrase: group of words beginning with a preposition and ending with a noun or pronoun: from the Korean War, in our sunporch, in the corner, on the sill, like an invisible man, on a hanger.
participial phrase: verb form ending in –ing or –ed or –en used as an adjective: laughing on the sill, hanging like an invisible man.
absolute phrase: noun used as an adjective. You can put the preposition with in front of the noun: his duffle bag, his ceramic Buddha, his army uniform.
simile: comparison using like or as. hanging like an invisible man.
personification: giving life to an inanimate object. his ceramic Buddha laughing.
parallel structure & 3s.
Writers love to write in 3s. his duffle bag, his ceramic Buddha, his army uniform: triple absolute phrases.
Once students are familiar with the structures I have presented, the fun begins as we start to copychange the passage. We change the context, but retain carefully the structures.
Example: I have changed the Soto passage to make it now describe my character Grace in NOLA Gals.
I always work changing the first passage aloud with the students.
Grace was back from the Somerset Mall and flopping on her bed, her packages on the floor, her tired feet moaning on a pillow, her iPod earbuds stringing like limp wires from her ears.
Next in pairs, they try one of their own, working those structures.
Justin Bieber was back from his concert and collapsing in a chair, his inked tattoos on his arms, his leather pants creaking in the lamplight, his tired eyes closing like old shutters on a house.
Once they have the hang of the structures, for homework, they should re-write the passage describing a family member or pet.
George was back from the goat pen and lying on the floor, his nasty dainties in his paws, his muddy fur crying into the carpet, his weary haunches slouching like ancient soldiers at rest.
An important part of writing is making the shift from reading as a reader to reading as a writer. So now they begin a copysearch to find structures in written passages they are reading. I have students copy the passages, citing the work and page number on post-its. Then I make a bulletin board of the post-its labeling the structures.
Copysearch example: NOLA Gals, p. 1 Little Chardonnai was perched on her hip, her skinny legs wrapping round.
Structures: prepositional phrase, absolute phrase, participle
Copychange: Big Harry was dangling from the ledge, his heavy legs thrashing around. One student once told me I had ruined the way he read. I thanked him. Another student decided she needed to read better books as she now realized how poorly written her current choices were. However, many authors are not aware of the advanced structures they use. That's called talent!
Through all of these activities, students should internalize the structures and begin to use them in their own writing. My students keep journals and devote a section to new writing structures or writers' tricks. There they list structures as they discover them with definitions and samples. I do not give them hand-outs. They instead generate the lists to better work those structures. From the wrist to the brain!
Students get to love Uncle Shorty. Another activity is to draw him from the description. One student once told me he can see similes better if he draws them. They are free to draw what they read in their journals. Each fall some student invariably approaches me with the question, "When will we meet Uncle Shorty?
Lesson Plan Two
Close reading continued
Give me three adjectives that come to mind when you think of a baby.
So you may offer: cute, cuddly, precious, pink-faced or a little more realistically: smelly, burpy, red-faced. And what techniques would you expect to find in a description of a baby? Lots of adjectives, similes, metaphors, big vocabulary words, maybe?
The movie Birdman has just won the Oscar for Best Picture, 2014. The play within the movie is based on a short story by the minimalist writer, Raymond Carver.  I love to share this Carver description of a baby, one like no other, from another short story, "Feathers" from his collection, Cathedral. It usually defies expectations.
         The baby stood in Olla's lap, looking around the table at us. Olla had moved her hands down to its middle so that the baby could rock back and forth on its legs. Bar none, it was the ugliest baby I'd ever seen. It was so ugly I couldn't say anything. No words would come out of my mouth. I don't mean it was diseased or disfigured. Nothing like that. It was just ugly. It had a big red face, pop eyes, a broad forehead, and these big fat lips. It had no neck to speak of, and it had three or four fat chins. Its chins rolled right up under its ears, and its ears stuck out from its bald head. Fat hung over its wrists. Its arms and fingers were fat. Even calling it ugly does it credit.
Now there's a baby to remember and perhaps pity. In the story two guys have worked together forever and one finally agrees to go to the other's house. To make matters worse, there is a peacock strutting around the kitchen and occasionally pecking in the baby's fat folds, shocking the visitor. Some of you may remember the infamous ugly baby from the Seinfeld series.
Students love this passage and read closely to discover Carver's secrets in creating such a striking baby. First of all, are there lots of gooey adjectives? No. Similes? No. Big vocabulary? No.  So how does Carver write so effectively? First of all, do we know what sex the baby is? No, because the only pronoun Carver uses is its, thus neutering the baby. How many times does he repeat the simple adjective, ugly? Four.  Other adjectives: big, fat, red, pop, broad, three, four, bald.  No sounds come from the baby. No cooing. There is a list of body parts: middle, legs, face, eyes, forehead, lips, chins, ears, head, wrists, arms, fingers. Almost as if they are part of a statue. A definite lack of the five senses except for sight of the visitor and Olla's touch. Sentence structure is simple. Verbs are simple.
Now the challenge: Write a description of a person or animal that surprises the reader in a simple, yet memorable way.
            The new pope stood at the altar. He did not smile. He bowed his head and prayed in Latin. He prayed as the priests around him waited. They waited. And still the pope prayed. He was the pope in his red robes and red slippers, and he prayed. He never looked up and out towards the people in the chapel. He prayed. You almost thought he didn't want to be there. You could only see the top of his head as he prayed and prayed and prayed. Maybe to be excused from this new role. 
Or:
           This was no kitten. Calling her a kitten was just wrong. She was a puppy in every way. She didn't meow. Instead she yelped. She didn't sit and purr. Instead she ran and jumped. She didn't chase her tail. Instead she ran and fetched a ball. Someone had made a mistake. This was no kitten. This was our new kippy.
I urge you to read more of Carver's stories. And be sure to see Birdman. It's one of those movies that will send you to the internet to read discussions and try to figure out the ending. Don't you just love literature or film that makes you think?
I am reading A Spool of Blue Thread by the remarkable Anne Tyler. It's her 20th novel. Here are a couple of unexpected descriptions from her pen Got a favorite book? Not this one.
"…His least favorite picture book – the one he hated so much he tore out all the pages, remember? – had that baby rabbit that wants to change into a fish and a cloud and such so he can get away, and the mama rabbit keeps saying how she will change too and come after him. Denny ripped out every single page!"
Or a beloved preacher?
    The preacher, if that was the term for him, was a bike messenger with a license from the Universal Life Church. Carla commented several times on how he had "cleaned up real good," but if so, the Whitshanks could only imagine what he must have looked like before. He wore a leather jacket – in August!- and a stubbly black goatee, and his boots were strung with chains so heavy that they clanked rather than jingled.
A master at work.
Lesson Plan Three
Specific Detail
To Look At Anything
To look at anything,
If you would know that thing,
You must look at it long: 
To look at this green and say
I have seen spring in these
Woods, will not do–you must
Be the thing you see:
You must be the dark snakes of
Stems and ferny plumes of leaves,
You must enter in
To the small silences between
The leaves,
You must take your time
And touch the very peace
They issue from.
John Moffitt
Moffitt gives the writer good advice in his poetic how-to for writing specific detail. In NOLA Gals I use detail very specific to New Orleans and Mimmi as follows:
Old Mimmi loved the 9th Ward here in New Orleans. She adored the cool sounds of Satchmo and Fats Domino; the rich diet of shrimp and okra gumbo, rum raisin French toast, and crawfish pie; the walks along the Industrial Canal when the sun slipped into the shade. She looked ahead at the old lady, almost stomping in her determined gait of hers. Head high, sweat dripping down her cheeks under the old straw bonnet, those extra pounds bumping up and down her hips, further weighed down with groceries and her grandchild, Chardonnai. Unafraid, Mimmi began to sing her favorite song about that lazy old river. Page 3.
Notice the list of details and yes, there is an intentional fragment, too. Now let's go to a passage from a sports column by Mitch Albom of The Detroit Free Press.
The moon hung low in the dark Bronx sky, beaming down proudly on the lights of Yankee Stadium. Fans draped over the railings, cheering every hopeful crack of their heroes' bats. Music blasted through the loudspeakers. Highlight footage flashed on the giant scoreboard. It was all New York, the lights, the noise, the hot coffee, the hooded sweatshirts, the guttural yells, the clenched fists, the announcer bellowing, "Ladies and gentlemen, welcome to the 1996 World Series…"
And another passage from The Shirt by Gary Soto:
I gazed at the ground, which I noticed was busy with so many things: the flakes of egg shells, nails, broken bottles, bottle caps pressed into asphalt, grass along fences, sleeping cats, boards, shattered snail shells, liquid-eyed jays, pot holes, black ants, red ants, jaw-lantern insects with blue eyes, half-eaten fruit, ripped shoes, buttons, metal slugs, cracks in the earth, leather thongs, ripped magazines–everything except copper.
Suggestion for writing:
Copychange the description of Mimmi, changing the passage to describe a person you know set in an area where you live. What are the unique places, foods? Use the five senses to make them come alive. Then go for a walk and find an area to describe or find an old drawer full of junk (most people have at least one) and describe that. Please send me some of your passages.
Meanwhile here's a good poem by Gary Soto for you to play with.  Soto is remembering a place with specific detail. Please note you avoid any charges of plagiarism by giving the original author of the poem credit with a simple (After "author's name") below the title when you use it for a copychange. Here's Soto's memory poem:
Street
What I remember is a street,
A wide street,
And that it is cold:
A small fire in the gutter, cats running
From under a truck, their tails up
Like antennas. A short woman
With a short cane, tapping
Her way
Past the tracks.
                             Farther away,
An abandoned hotel
Whose plumbing is the sound
Of ocean. In one room,
A jacket forever without a shadow
And cold as the darkness it lies in.
Above, an angle of birds
Going south. Above the birds,
Clouds with their palms open and moving
Toward the Sierras.
Dusk: the first headlights come on,
And a Filipino stands
Under a neon, turning a coin
In his pocket.
Gary Soto
Now here is a former student, Laila Aukee's copychange of this poem. Notice she gives Soto credit for giving her the frame for her poem.
Boardwalk
(After Gary Soto)
What I remember is a boardwalk,
A long one.
And that it is crowded:
A small bakery smelling of fresh bread, bicycles migrating
From every direction. A carefree kid
With a carefree kite, shouting
His way
Down the beach.
                                Farther away,
A Ferris wheel,
Whose cars are overgrown
Flowerpots. From one car,
A hazy horizon forever dependable,
As sure as the sunshine over the waves.
Above, a hunting gull
Scavenging for picnics. Above the gull,
Parasailers with their 'chutes like wings billowing them
Towards perfection.
Dusk: the sun casts grey along the sand,
And two cousins stand
Under the arcade light, fulfilling cravings
With French fries and vinegar.
Laila Aukee
Have fun trying your own copychange of a memorable place you visited. I'll be back with more work for specific detail in Lesson Four.
Lesson Plan Four
More Specific Detail: Writing from the Heart
As a language arts consultant and now author, I have worked in many classrooms, prodding and poking like a surgeon to get kids to write from their hearts. To write about what they know best and love and sometimes, hate. I always used a charming picture book by artist, Sara Fanelli, My Map Book. In the book she shows the reader her life through maps of her neighborhood, her school, her heart and even her dog, Bubu. I love her map of her heart in which she includes Bubu, relatives, sunny days, chocolate, surprises, and of course, the moon. Once my students look closely at her map they are off, drafting their own hearts.  The maps vary in size. I have had third graders paint huge maps on the floor on roll paper while adults tend to sketch small hearts in their journals. Kids from kindergarten to college love this activity. When the heart is involved, there is no limit.
When the maps are finished, the questioning process begins to find the stories in the heart. I ask for a volunteer and then begin to zoom in on specific items in their heart map. Mom, for instance. What's your favorite thing about her?  What does she look like? What's the best thing you do with your mom? What's a really good time you had with your mom outside the house? On a trip? What special music or smell comes to mind when you think about your mom? The class begins to ask questions. As stories begin to emerge, I write down a word or two on  post-its to tag the heart to remember for later writing. Then I ask questions designed to move towards possible conflict for a story. What if your mom had a clone? What if a neighbor was mad at your mom for something? What if your mom met her favorite book or movie character? Through this process, students should generate a list of possible story or poem topics. They can also meet with a partner and exchange maps and questions.
Time for a writing model: I introduce the lovely poem, My Overhauls from the collection, Once in the Country by Tony Johnston.
My Overhauls
The best thing is their color,
               old-night or early dawn.
No, the best thing is their limpness
               when I hoist them on.
No, the best thing is their looseness
                like a soft skin of a pup.
No, the best thing is their buckles
                like a suitcase snapping shut.
No,  the best thing is their perfume
                 of cows and hay and dung.
No,  the best thing is their many holes
                  to let in all the sun.
Tony Johnston
Having seen so many maps of the heart from students, I knew this poem was just waiting for close reading and copychange for all their objects of affection. So we looked at the poem for structure and style. The repetition and parallel structure was obvious. The richness of language and appeal to the five senses was  a skillful treat. Also the rich similes, effective sounds when read aloud like alliteration  and of course, the ewww! at the mention of dung drew the readers' praise. Delving into their hearts, they now began to change the poem into a description of one of their objects.
My Soccer Ball
(after Tony Johnston)
The best thing is when I kick it,
               it flies like a hawk in the sunlit sky.
No, the best thing are the spots
                that show proud and strong over the plain white background.
No, the best thing is the smoothness
                 of its newly bought surface.
No, the best thing is its smell
                  like a newspaper in the humid summer morning.
No, the best thing is when it whizzes by the goalie
                  and crashes with the threaded net.
Zack
Zack, a sixth grader, gets it. He mimics Johnston well. I did get a kick out of his heart map. He was very methodical, making a key to the right of the map to explain each object. The final product was presented on his clipboard. Definitely a left-brainer in a poetic world!
Zack's teacher, Jill Sloan offered this description of her cat:
Mr. O
(after Tony Johnston)
The best thing is his greeting,
             rolling, raucous, racing.
No, the best thing is his talking,
              whispers of daily adventures.
No, the best thing is his agility,
               as he leaps from counter to ledge.
No, the best thing is his wonder
                 of water and make-up and fire.
No, the best things are his eyes,
                 holding the mysteries of his mind.
Jill Sloan
One reason I love working with kids are the things they often teach me. After demonstrating the heart map to students in Waterford, a little girl sent me  a great idea she came up with, a further variation of the map. She had been reading The Great Gilly Hopkins by Katherine Paterson and had been thinking about Gilly. She had sketched out Gilly's heart as if Gilly, herself had drawn it. Not content with this innovation, she had decided to re-draw Gilly's heart at the end of the story, too. What a great way to connect the heart map to literature and  show character growth.
When I next visited an English class at Oak Park High School, the students had just finished reading the classic, To Kill a Mockingbird and here was my chance to try out the new character map concept. Each student chose one major character from the novel, sketched a heart, and then wrote a copychange of the Johnston poem.
Jem's Tree
(after Tony Johnston)
The best thing is the knot hole
               big and wide,
No, the best thing is the yarn,
               when it was all balled up.
No, the best thing is the soap dolls,
                that looked like me and Scout.
No, the best thing is the pocket watch,
                shiny as a sun.
No, the best thing is the Indian coins,
                round like the moon.
No, the best thing is the gum,
                 soft and all chewed up.
Amar
Was this an easy assignment? No. Almost every student needed major revisions for specific detail.  Amar's tree had to be the exact tree Harper Lee created, not just any tree. Also it was not Amar writing, but Jem so he had to walk in his shoes and write as he would, in a simple style.
With all this in mind, I've written a copychange of Johnston's poem based on a character from my novel, NOLA Gals. Here is Mama's Quilt by Essence based on the description from pages 44-45 in the novel.
Mama's Quilt
(after Tony Johnston)
The best thing is its first patch
                of the old coal barge on the mighty Mississippi.
No, the best thing is another patch
                  of molasses horn of Harold's.
No, the best thing is the happy patch
                  of Pippi and Mimmi's wedding day.
No, the best thing is the good-smelling patch
                   of our family recipe for gumbo.
No, the best thing is old George's patch,
                     with nasty dainties round his legs.
No, the best thing is the patches sewn together,
                     all hugging me like missing Mama's arms.
Barbara J. Rebbeck
Please look at the poems and heart maps under Student Work Beverly Hills Academy. Teacher, Sara Coyle. Thanks, eighth graders for your great writing!
And next time we attack the art of writing extended metaphors in Lesson Five. Please send me student samples or reactions to these classroom ideas.
Lesson Plan Five
The Art of the Extended Metaphor
In my novel NOLA Gals I use an extended metaphor to describe Hurricane Katrina as an angry teen. Below the metaphor appears in poetic form. The original found on pages 21-22 of the novel is in prose form. Once you have a powerful extended metaphor, it is easy to convert it to poetry just by manipulating the linebreaks, following the punctuation and paragraphing. No need to change a word. I kept a journal as I wrote the book, hoping to share the process with students in the future. Here are a few notes on writing the metaphor. It is the writer's responsibility to be accurate with the science. I used several books to research just what a hurricane was and how it developed in general. Then I further researched the actual steps Katrina took from the West African shore to the battering of New Orleans.
Notes from my journal:
For metaphor: hurricane=vacuum–drives across ocean, pulls up water in its grasp
                             when hits land, all sucked up water is let loose in great wave known as storm surge
                             Katrina perfect water vacuum: Perfect storm–1. low pressure core 2. huge 3. flowing over unusually    warm water in Gulf the last week of Aug.
Metaphor- teen sucks up water over gulf, vomits it over land with divining rod/driftwood. Maybe change to syphon? chalice? glowing pearl shell? sucks from gulf, cheeks full, dumps it in great wave-surge
Timeline Katrina: Sun. 10 am-evacuate -Mayor Nagin, buses to Superdome
                                   4 pm -first rains
                                    6 pm– rising winds–curfew
                                    9 pm- heavy rain, blinding downpour, roads washed out, traffic lights swinging, level 5
                                   Mon. 2 am-downgrade to 4, water from Gulf & heavy rain fill Lake  Ponchatrain to brim, 4 drainage canals full
                                   3 am-water already broke thru concrete walls, rain inch an hour
When writing an extended metaphor, the verbs are key players. They will drive the comparison. If students read the metaphor and pick out the power, often scientific verbs, and then focus in on the description of Katrina as a teen age girl they will see the metaphor play out.
An important and somewhat weird ability writers, especially poets have is a sort of double vision. This trait makes writing metaphors easier as the poet often sees the comparison immediately.  I was at a stoplight the other day and saw a group of boisterous kids waiting impatiently for the signal to move forward from their crossing guard. As he turned his sign,, they were off running, jumping across the road. What I saw was not a group of kids, but a flock of clumsy gazelles, leaping their way along the road. The author, Janet Fitch writes incredible similes and says she'll often mull thirty minutes before she has the perfect, original comparison.
A fun activity is playing The Metaphor Game. If you were a car, for example what would you be? Kids must be able to answer the why. To pull the metaphor through. Example: Right now, if I were a car, I'd be a Focus because as a teacher turned author, my career has a whole new focus. Other questions: candy bar? country? book? movie? color? game? song? animal? bird? pet? food? ice cream flavor? I'm sure you can add some of your own. Kids also enjoy going for a metaphor walk, spotting things that are not what they seem like my group of gazelles.
I also use the children's book, It Looked Like Spilt Milk by Shaw with kids to loosen up their right brains, the seat of creativity. The book is a series of clouds in different shapes. By copying these onto overheads or laptops, and showing them one at a time to students you can begin to manipulate the images by shifting them sideways or upside down so the original shape, such as a rabbit is gone and students must see new shapes.  The really creative kids will begin to see things in the negative space of the black background. You must caution students to write down what they see before sharing. Blurting out what they see sways others. This is always a great day for the spatial learners and a real challenge for the logical math-verbal kids.
Katrina
She dips her toe into the ocean off the West African shore,
peering out to sea,
her white dress billowing around her like a silken sail.
She has come on the winds
Restless, she pulls back,
shaking loose the scant beads of water
from her shimmering leg.
Stooping, she runs her fingers through
the rough sand, reaching for a seashell.
It has been worn by tentacles of wind, sand, and ocean,
caressing and lapping round their sinewy fingers,
eroding it to a dull roughness.
She runs her fingers along the hard crescent shell,
turning it to reveal its curled inward cup.
Scraping her long, red nails across it, she removes
small clumps of errant sand from its spindly surface.
Shaking it, and banging it with her flat fist,
she dumps more sand from the cup.
Pulling it to her ear,
she listens
as centuries of whispers from the sea
call to her,
sirens luring her on.
She looks again to the horizon,
clear of life,
clear of cloud,
clear of destiny.
"Mother, I shall leave this place. I shall be free."
Her voice raises as the wind
increases its roar in competition.
Spinning, twirling, she lifts
into the air, dropping the shell beneath her.
Looking down to the wet sand below
even she is amazed at her levitation.
What magician is at play?
How her mother would be jealous.
Flushed with possibility, she moves
out over the ocean,
her anger rising with her body.
Suddenly,
she reverses her motion seaward,
dropping to the shore once more.
She needs the seashell now.
As she stoops to retrieve it,
grasping it in her right hand,
it turns on its own,
squirming in her palm,
tearing slight cuts as it begins to glow an ashen pink.
She holds the shell with her left hand,
clamping the right over, and rises again
into the darkening air. Ominous clouds
are surging over the water,
sealing their forces in a counter-clockwise spin.
The ocean below begins
a slow churn as the clouds blacken the air,
eclipsing the sun.
The clouds suck vapor off the steaming water,
reveling in the moist heat, swelling their cheeks.
Now she would have her way.
Soaring upward, she takes her rightful place,
dead center in the black clouds.
Raising the seashell before her at shoulder height,
she points it towards the horizon.
A divining rod of sorts, it will guide her to freedom, she knows.
For days she rides the Atlantic,
on a powerful tropical wave growing in size and strength,
the seashell guiding her.
Over the Bahamas, she sucks up the hot water,
quenches her thirst, and moves on towards Florida.
There she slows a bit, curious to see this new land beneath her,
amused at her power to bend the palm trees perpendicular
and flood the streets with torrential rain.
But then, bored, she crosses back over water,
howling and spinning over the Gulf of Mexico.
Hair in her eyes, lost in dizziness,
she holds the seashell up as best she can.
Jagged memories of her mother and their fights
cut her mind, fueling her determination.
She will have her way.
She dives like a manic seagull,
hovering above the surface of the Gulf,
her hand reaching down, skimming the surface,
filling the seashell with the moist, hot water.
Soaring upward, she cups the seashell gently,
careful not to spill.
Guided to the northwest, in command of the waters
and the clouds, she becomes nature,
her anger propelling her over the city of
New Orleans.
She swirls, caught up in the vortex of the storm,
clasping the seashell tightly to her chest.
Her dress, once slick and twisted across her body, parachutes
out around her, puffed against the driving rain.
She spins, a vein of white marble
in the circling black clouds.
Laughing, she pushes the seashell out before her
and tips it, unleashing a torrent of rain— a surge of water
on the helpless city below her.
Roaring into the winds, she rants,
"Hear me! I am Katrina!"
From NOLA Gals, by Barbara J. Rebbeck
Once students have enjoyed loosening up their creative sides, we begin to write individual metaphors, first in paragraph forms, then making the shift to poems by changing linebreaks. Please see below for extended metaphor poems from students.
P.S. The extended metaphor in NOLA Gals was controversial as some people told me no agent or publisher would read beyond it, without stamping my book with a big rejection. It was originally the prologue, so not wanting to kill it, I moved it into the story. I did find an editor who loved the idea of giving the hurricane a voice though. When I work in classrooms, the number one writing style students want to learn is the extended metaphor.
Tim Tebow
Throwing the football is lightning striking the ground.
An explosion of thunder comes after the lightning.
Thunder booms
From the receiver's hands as he catches the pigskin.
Tebow's arm is faster than the speed of light.
Tim Tebow
Is the Greek God Zeus hurtling lightning,
Striking at whatever stands in his way.
Niko
Quake
The King,
Living on the California coast
Brings fear in the hearts of his enemies.
When he strikes,
the world trembles.
He has no friends,
no colleagues.
He does his own dirty work.
When he is angry,
he shakes.
He reduces his opponents to rubble,
a monarch conquering kingdoms,
burning them to the ground.
He breaks buildings like they are Legos,
dismantles bridges like they are toothpicks.
The whole world fears his name,
King Earthquake.
Clark
Thoughts
I am a human, a brain labeled New York
Busy
Enlightened
Connected
I am a city with a growing maze of thoughts
Thoughts found under my skin
I am never-ending
 Exploring
I am trains of thought
They come but never go
I am 46th Street, storage
With an entrance, but without an exit
I am a sign of liberty, with justice for all
I am electricity, always on
Unless a tragedy occurs,
             sadness
Remember me, because there is no tomorrow
There is only today
I am the city that never sleeps
 I am the Big Apple
I am a mark of history
Amer
Lesson Plan Six
Juxtaposition, Found Poetry and Artists
At a reading of NOLA Gals, a young man asked if my multiple narrative voices had been influenced by William Faulkner's novel, As I Lay Dying. Flattered by the comparison to the great southern writer, I said that although I had read and loved his novel many years ago, I was not consciously aware of it while writing mine. But who knows what lurks in a writer's mind? I do recommend Faulkner's account of the Bundren's  trek across country to bury their mother. Voices ranging from the mother herself to relatives and neighbors tell the story. James Franco attempted a movie version, but the critics were not thrilled.
Juxtaposition is what Faulkner's novel and mine have in common. In my novel I let the various voices ranging from the two teens, Grace and Essence in both narrative, journal, essay and letter form, and then others like Sister Joan, Mama, American school kids, Lindsey and Billy push the plot along. For some young readers this technique presents a challenge as they have to follow the thread of the storyline through changing voices and genres. I lay the voices alongside each other. I juxtapose their messages. Inside the novel's format, if you look at pages 99-107, the chapter entitled Those People/Us further juxtaposes the voices of the parents and the voices of the teens. The changing font from regular to italics helps the reader make sense of the action. The teen attack on Essence is mirrored in the cocktail party chat of their parents. It is reminiscent of the song from the musical South Pacific. A young soldier sings You've Got to Be Taught about learning prejudice, not being born with it. Interesting that at the time of the musical just after WWII, the composers were urged to remove the song. They persisted in keeping it in and went on to win the Pulitzer Prize for the musical. Throughout NOLA Gals the publisher has helped my readers by assigning a particular font to each voice.
I have used this technique in lots of my writing. I think my writer's double vision allows me to see comparisons easily. Here are two poems based on juxtaposition:
An explanation first. My father was British. He first came to Michigan in 1943 to train as a pilot for the Royal Air Force. Stationed at Grosse Ile, he met my American mother, and the rest is family history. While at the base, several young trainees were killed in airplane accidents.  They were young kids playing around with serious war machines. They are buried at Oakridge cemetery in Flat Rock. Every year they are remembered with a Memorial Day service. I attended that service with my dad  and family for several years. An article appeared in The Detroit News by Neal Shine one year and that inspired me to write a poem about the young pilots who had lost their lives.  I attempted to rhyme this poem to please my dad who loved rhyming verse. In those days I was using an electric typewriter to write so when I pulled the paper out of the carriage, I literally laid it on the table right next to a copy of Canadian John McCrae's famous World War One poem, In Flanders Fields. Mmmm, I thought. What if…
So I juxtaposed the two poems line by line, one from WWI, the other my own about WWII. I was amazed at the easy fit. And so was The MacGuffin magazine as they later published it.
RHYMES
In Flanders fields the poppies blow
We come on this morning to honor the youth
Between the crosses, row on row,
of the country you left not quite behind.
That mark our place; and in the sky
Poems, anthems, and hymns meant to soothe
The larks, still bravely singing, fly
call up in you the ties that still bind.
Scarce heard amid the guns below.
They all were just kids with you at the base,
We are the dead. Short days ago
bombing trains with coke bottles and women
We lived, felt dawn, saw sunset glow,
with charm. Now a few rest in this calmed place
Loved and were loved, and now we lie
never to see their homeland again.
In Flanders fields.
Take up our quarrel with the foe:
Forty years gone—no children born
To you from failing hands w throw
who would have fought another war
The torch; be yours to hold it high.
and lived to love an English morn—
If ye break faith with us who died
these boys who can no longer soar.
We shall not sleep, though poppies grow
For rhyme breaks down where grief we sow
In Flanders fields.
John McCrae
Barbara J. Rebbeck
I'd advise you to first read each separate poem following the font. Then read it all as one.
Poem number two is a found poem based on juxtaposition. Found poems are everywhere just waiting to be "found." You remember in previous lessons we've made poems by just changing linebreaks from prose passages. I have always been fascinated by artists, especially those like Vincent Van Gogh who suffered so he eventually ended his own life. He sold only one painting in his lifetime. One day while leafing through the PBS Signals catalog, I was struck by all the Van Gogh merchandise available, ranging from mugs to canisters. I began to wonder what Van Gogh would make of all this. I picked up a book I had read before called Van Gogh by Vincent, a collection of his paintings, each juxtaposed with a quote by the artist himself about his art. My mind began to form a found poem, an ironic one. By using only Van Gogh's words, I began to alternate them with the PBS merchandise descriptions. Here's the result:
Serious Sorrow
Van Gogh by Vincent, Rachel Barnes
Signals, Fall-Winter 1995
I want you to understand clearly my conception of art… What I want and aim at is confoundedly difficult, and yet I do not think I aim too high.
Van Gogh Starry Night Nightlight
Let our starry, starry nightlight cast a soft glow in a bedroom, hallway, or bath. A miniature of Van Gogh's masterpiece, made of glass framed in metal, measures 3 1/4″ square. Bulb included. #44355…$29.95
The world concerns me only insofar as I feel a certain indebtedness and duty toward it because I have walked this earth for thirty years, and,  out of  gratitude, want to leave some souvenir in the shape of drawings or pictures – not made to please a certain taste in art, but to express human feeling.
Gallery MousePads
Replace your boring mousepad with a mousterpiece. Gallery MousePads look wonderful, wipe clean, last long, and give optimal traction. Made from natural latex rubber, each is 9 1/2″ by 8″. Each $19.95. Van Gogh's Irises #36091
I can very well do without God both in my life and in my painting, but I cannot, ill as I am, do without something which is greater than I, which is my life – the power to create.
Fine Art Canisters
If you enjoy fine art in museums, you'll love it in your kitchen. Our elegant porcelain canisters put three priceless works where you'll enjoy them every day.  Large (60 oz.) features Starry Night by Vincent Van Gogh. #25517… $36.00. Special price for all three; you save $10.00
Well, my own work, I am risking my life for it and my reason has half-foundered because of it… but que veux-tu?  Vincent Van Gogh
Barbara J. Rebbeck
Please note that I give the two sources right up front below the title of the poem. I have not written one word of the poem myself. And yes, found poems exist in nature. The writer, Annie Dillard has published a collection of found poems called, Mornings Like This.
This morning I went to the wonderful exhibit of the works of Diego Rivera and Frida Kahlo at the Detroit Institute of Arts. I was struck by a painting Kahlo created called, Diego and Frida, 1929-1944 as a gift for their 15th anniversary. In this painting she depicts them not as a couple, but as one whole person. The one face is made up of two halves of their faces. She merges with him. Their dualistic relationship is represented by images of the sun and moon and also a scallop and conch. All juxtaposition.
Your challenge now is to write a juxtaposition of your own. I suggest you start with a comparison you can write in two paragraphs for openers. See if you can get across your comparison or meaning without stating it. Let your two paragraphs tell your story. Play with varying fonts to help get your ideas across. You might talk about a generational difference. Think of something you love, but your parents hate. Or maybe contrast yourself with a friend on a topic, talent or skill. How can you show the contrast without telling us? Next, try finding a poem somewhere. Please send me examples. I bet you can come up with something cool.
P.S. I am reading Anne-Marie Oomen's beautiful memoir, Love Sex and 4-H. I highly recommend it to any child of the Sixties like myself. In it she proves herself a master of juxtaposition as she weaves her story of growing up isolated on a farm in Michigan into the larger world. Her continued metaphor is one of sewing, of making her own clothes. With intricate detail she makes aprons, skirts and dresses as she makes her life. In the chapter called Dish Towel, 1960, she juxtaposes the details of making her first dish towel with her mother's instructions with a series of deaths.
     I cut strip after strip after strip of the plain linen with the green lines, holding the scissors so tight, my hands cramp. What I have left are rows of little empty squares, like the strips that movies are made on, but the movie is snow…
It is a cold morning when we hear the baby has died.  A blue baby my mother says when she brings the news into our house, when she comes home from visiting the hospital…
After days of the scissors making their small scolding sound, I am able to cut a rectangular piece of the proper size…
Or is it the winter that Grandpa Joe dies of a stroke only a few years after he stopped drinking and she had finally gotten to know him better? February is the time when our old people die…
Finally, I sit at the sewing machine with her next to me. She shows me how to put the spool on the spool pin, how to bring the thread through thread guides  and down through the tension regulator…
During thaw time, my five-year old cousin Sally drowns. She falls through the ice and drowns in the little pond near their house in Fremont…After that, I don't see my mother cry at another funeral—and there are many. And we don't  speak much of this thing, this death thing. We go on working…
When I am done, I snap up the foot, snip off the thread. I lift the towel up and look at its perfectly plain regularity. My mother is near, and I hear her put her coffee cup to the side. She lifts the edge, studies the clean lines, sees something useful I have sewn on the machine. I hold the other end, stupid with wonder that I made this thing. At last she nods. The sadness she holds, a sadness that I will always hold the opposite end of, is for the moment clean and plain as this pattern of squares—empty, silent, but ready for use.  pages 22-26.
Of course, you must read the entire chapter to appreciate the writing skill here. I learned to sew at a Singer machine in Home Economics class in junior high. It was a frustrating class for me. We juxtaposed sewing with cooking. My products over a few years were a Christmas apron, a  dirndl skirt, a lilac blouse with those sleeves torn out and redone over and over until they earned me a grade of B. In our little cooking kitchen my small group of girls made cocoa, cubed jello and we eventually graduated to city chicken, a curious skewer of alternating veal and pork cubes doused in cream of mushroom soup, never near a chicken at all. But it was the Sixties and girls needed these skills to find a husband and keep him happy. I've suggested to Anne-Marie we should collect an anthology of poems describing the multitude of aprons we sewed back in the good old days before Vietnam tore the country apart and the string of assassinations gave us headaches that couldn't be cured with a mug of hot cocoa made from scratch.
Lesson Plan Seven
Editing or Killing your Darlings
What writer first said it? Who told us to be a good writer you have to be willing to get rid of what you really love? To kill your darlings? Was it Faulkner? Wilde? Chekhov? Stephen King or some old codger named Quiller-Couch? No one really knows. It is just sound advice.
Here's  editing example from my novel, NOLA Gals. The book had survived fairly intact. I had not been asked to do the dreaded total revision many writers do to please editors and agents. One editor had pointed out some continuity errors, and I had cleaned those up. I had twice edited the entire manuscript and sent long pages of notes to my editors, mostly grammatical or continuity  touches. The novel was at that time listed for a January 2015 release. It was October , 2014 when I received this email from my final editor:
Hi, Barbara,
We're working on the interior design and set-up for NOLA Gals. It really is a wonderful book. You had me in tears quite a bit. Thank you.
The only thing I'd like to edit is the following:
I'd like to remove all of the highlighted portions. While it's touching and informative I feel it's also entirely unnecessary to the story and takes the reader out of what's really happening, wondering if they may have missed something or whether or not anything else will crop up having to do with this. It's a much stronger story if you leave the focus on the Katrina tragedy and don't bring another one into it. I hope you agree.
If so, I'll go ahead and remove the paragraph and will finish up the interior and get a proof copy and pdf to you asap.
Thanks
She wanted to murder one of my darlings!
Here is the disputed paragraph in bold type. It occurs on page 125. Grace, Jack and Dr. Woodson are on their way to the pet rescue mission. Jack's dad works for NASA. They have been talking about their  futures and Jack's hopes to fly for NASA. Grace's mom says:
…"Time for some jazz."
She looked back at Jack, wondering what effect the disaster of the Shuttle Columbia had had on his family in 2003. Not bad enough to dim his dreams of flying, obviously. She had memories of Jack's dad being involved in the investigation of what had gone wrong. He had survived unscathed in the end, still a vital part of NASA when the shuttle flights resumed. She and her family had been at the Opening Day for the Houston Astros that spring while the independent investigation of the disaster proceeded. Everyone had been in tears when seven simultaneous pitches were tossed by friends and family members of the seven astronauts. She remembered looking for Jack's dad among the hundred NASA employees who had all worked on that shuttle mission as they carried the American flag out onto the field. The investigation report issued that August had been very critical of the decision-making process of NASA, but after many changes, the Discovery had flown again just this past July.
Groaning as the first sounds of jazz filled the air,…
I had pulled this gem of information from my research on Houston and the Astros. All true. Very moving, I thought. And thought some more and decided to let it go. It was a small paragraph after all and further discussion would just hold up the publication. So I responded:
Okay. Chop away. I was trying to bring more of Houston into the story and more backstory for Jack and his dad, but I see your point.
Case closed. Murder, most foul.
Next up I would like to take you through the revision process for my favorite poem, Redemption. This is my darling and although still unpublished, it did help me be named a "New Voice in Michigan Poetry." One of the judges called the poem a perfect example of word economy.
As a French major in college, I studied for a summer at the University of Grenoble. I, of course visited Paris and its great museums. At that time the great paintings of the Impressionist movement were housed at the Jeu de Paume. Ridiculed as artists for many years, they had starved as they stayed true to their art. Claude Monet spent years in poverty before he became a highly successful artist during his later years. His second wife got all the money. His first wife, Camille who had been his model, died at a young age. As I walked through the Jeu de Paume, I was struck by the beauty of these once rejected and scorned paintings. In a corner I saw for the first time a large painting that just stunned me. It was a woman seemingly wrapped in a cocoon of mauves and yellows. Her face almost lost in vagueness. I looked at the little plate next to it and gasped as I read the title: Camille on her Deathbed, painted by Monet in 1879.
This painting haunted me for the rest of that summer, and it traveled home with me in the back of my mind. I found it in a Monet book and began to do more research. Why? I thought, paint your dead wife? I found a letter Monet had written to Georges Clemenceau, president of France to whom Monet later would donate his huge water lily paintings  for the people of France. Monet wrote:
Finding myself at the bedside of a dead woman who had been very dear to me and who was always very dear, to my surprise I kept staring at the tragic temple while mechanically looking for the sequences, the appropriation of the color degradation which death had just left on the motionless face… Mon Salon, Manet by ZOLA
The artist overruled the grieving husband.
I had just gone through a messy break-up with a poet so the two fused in my brain in a draft of a poem written September 12 after a lot more reading on Monet. I still have those notes.
Artists in Grief
You are gone-
what can I do
but reach for pen
and write.
I shall write my grief,
my guilt-
I shall write of you.
Monet-
She is dead
and you
who used every sou
for paints
who took food
from her mouth
and painted-
what can you do
but paint.
You cannot seize life-
that is beyond your reach-
but you can seize light-
fatal obsession-
mordant as the blues
melt to grays.
In pallor you shall protect her
at last-
encase her in a canvas cocoon
of deathly mauve.
You shall–
ah, the light
see how it falls lovingly,
deceitfully
on her fragile throat,
numbing it with death.
If only you had not pawned the cameo.
No, she must have it-
You shall write and beg for the coins
for she shall wear it-
adorned,
adored,
Camille on her deathbed.
And if I write one more poem-
I shall have survived
until I can borrow
to regain my soul
from the pawnshop.
September 12, Barbara J. Rebbeck
Two weeks, later I have re-worked the poem. One radical revision technique is to scan the  piece for one phrase that stands out, the grabber. I have done what I call "writing in to the poem." The intro and final lines now need to go. A butterfly metaphor grows from the cocoon image. I dump my tragic break-up and focus on Monet, addressing him directly with the central question:
Grief
And what else could you do-
Monet-
but paint her on her deathbed,
but shroud her in a canvas cocoon
of mauve strokes?
Throughout the night
you kept an artist's vigil,
laboring to seize light.
Ephemeral obsession,
what else could you do?
You could not seize life.
How skillful the brush,
the hand abandoning itself
to an unearthly ascension
of yellows and gray,
forcing the metamorphosis,
leaving behind only an impression
of Camille.
By dawn she was assumed into your painting,
thin limbs vaguely softened,
fragile throat, bereft of the cameo
you had pawned,
now whispered calm in ethereal lavender.
How perfect your technique,
how glorious the mourning
as you adorned,
adored
Camille on her deathbed.
But what else could you do-
Monet?
September 23,  Barbara J. Rebbeck
This is now in my mind a serious poem with depth. I am calling up Catholic imagery in ascension and assumed/assumption. And I also have the butterfly metaphor flitting strong. I show it to poet, Naomi Long Madgett at a conference. She has read a packet of my poems beforehand and she seems unfamiliar with the Catholic references in Grief. She says I have talent, but should focus on learning my craft. (And I will, for years.)
By October, the poem looks like this:
Redemption
And what else could you do,
Monet,
but paint her on her deathbed-
but shroud her in a canvas cocoon
of mauve grief?
Throughout the night
you kept an artist's vigil,
laboring to seize light.
You could not seize life.
Ephemeral obsession.
What else could you do?
How skillful your brush.
Your hand abandoning itself
to an unearthly  ascension
of yellows and grays,
invoking the metamorphosis,
resurrecting the soul from the chrysalis.
By dawn she was assumed into your painting,
thin limbs vaguely softened,
fragile throat, bereft of the cameo
you had pawned,
now whispered calm in ethereal lavender.
How perfect your technique,
how glorious the mourning
as you adorned,
adored
Camille on her deathbed.
What else could you do,
Monet?
October 10, Barbara J. Rebbeck
I am heavy with a good poem I think, so off I go to the monthly writers' group with poet, Stephen Dunning at Oakland Schools. He is a legend, known to make teachers at his workshops raise their right hand and take a solemn oath never to practice "the fraud" of teaching the 5-paragraph theme to unsuspecting students. So I sit down and wait my turn to hit my homerun. I am up at bat, swing hard and belt the ball. One member of the group blurts out, "Wonderful! Superb!" when I finish. I look to Stephen and he frowns. He reminds us of the group rules. Never say anything too positive or too negative. I deflate.  Then Stephen says that no writer should ever attempt a butterfly metaphor unless you are William Wordsworth. My red pen goes to work mentally. I murder my darling butterfly and while I am at it, I kill the cameo, too. I leave the group bereft, but determined, my poem cut to the bone.
So here's my wonder poem of economy. If you'd like to publish it, call me!
Redemption
And what else could you do,
Monet,
but paint her on her deathbed–
but shroud her in oils?
How skillful your brush.
Your hand abandoning itself
to an unearthly ascension
of yellows and grays.
Throughout the night
you kept an artist's vigil,
laboring to seize light.
You could not seize life.
Ephemeral obsession.
What else could you do?
How perfect your technique,
how glorious the mourning
as you adorned
adored
Camille on her deathbed.
Barbara J. Rebbeck
A few last suggestions for editing and revision with students:
First, please do not carve the steps of the writing process in stone. Let writers breathe, especially with pre-writing activities. If they are going through the drill just for the teacher, all the pre-thinking can become really irritating, fake and in the end, useless. My own pre-writing is usually research and reading.  Just yesterday I saw a piece on the internet that was a handwritten chart of Harry Potter plots done by J. K. Rowling. That worked as pre-writing for her, but I assure you I had no path for NOLA Gals scribbled down anywhere. I did keep a writing jour with some setting sketches visible, but at only one point near the end, did I jot down about 5-6 plot events to write to get to the end of the story. Nor do I do detailed character exercises. I walk around for days writing in my head. At some point, I know it's time to grab it and put it down on paper. A teacher would have to do brain surgery and pour my ideas out on their desk to see much of my pre-writing. It's fine to show various techniques for generating ideas to students, just don't lock them into them. Sometimes a writer just sits down and writes.
Revision can be a wasted activity if kids meet, read each others works, nod, and say it's good. Writers need guidelines for revision. I always have students write their own rubrics. If you have laid the groundwork in craft lessons, you can rely on students. They will know what's important. When I taught Honors 9 English each of my three sections wrote their own rubrics as a class with me, arguing and finally agreeing in discussions on a final document. The three sections never agreed, but that was fine. The point totals were equal, the criteria and weight distributions varied. I always shared the different rubrics with each section, and sometimes one section would like another rubric better, but they stuck with their own. And please, don't ask me for samples of these rubrics, it's all about thinking at higher levels and trust.
Another very effective activity I used in classes was an impromptu written by each student in September. They had a choice of three topics and could write a narrative or essay. They had one class period to write. I scored the papers on a 7-point districtwide rubric and stowed them away for the year. In June I gave these papers back and students revised them in class, this time annotating all the new ideas and structures they had learned which had become a part of their voice and style. It is well- worth the effort just to hear students moan and groan as they re-read their original papers. OMG! And it really nails what they have learned about writing. Most students jumped about three levels on the rubric.
Here's a good revision technique, intervention. After drafts are in readable shape, introduce a new structure. Focus on something like a grabber opener, a participial phrase, absolutes, show, don't tell in dialogue. Use a passage like I did in Lesson 1 to highlight a new structure as in Soto's Uncle Shorty sentence. Then have writers revise and go into conferences on the search for the new structure. It's always effective to find a passage from a student's draft to highlight for other writers. Trust me, you will find good stuff if you look.
Editing for economy is a great exercise. Get rid of excess helping verbs, is running becomes runs, etc. Excess adjectives, a sad, dark, morose, melancholy evening  could just be sad. (I once had a writing teacher say that if a teacher had to have a thesaurus in the classroom, please tape it shut. I wonder what her advise would be now with modern technology available. Cut excess adverbs. Give the power to the verb. He ran quickly becomes He flew.
One teacher whom I worked with for several years told me the best advice I ever gave her could be found in two simple words: Just think.
Lesson Plan Eight
Tomatoes, Malala and Toxic Taps: Found Poetry
It has been my pleasure this year and last to work in classes with my novel, NOLA Gals and other mentor texts. I've reached back into my sizeable bag of writing tricks, polished off a few chestnuts, and baked some new recipes. (That's a 3, folks!) I shared the poetry 6th graders wrote with me and their teacher, Sara Coyle at the Beverly Hills Academy at a  teacher workshop, so now I publish it here for your use in the classroom. Enjoy! And remember that poetry is the very core of good writing so please don't save it for a quick unit in May. Haiku and acrostics miss the point of the power of poems. Be bold and start your year off with poetry.
In 1995, I published an article called, Poetry (sigh!) in LAJM, Language Arts Journal of Michigan on writing good poetry. By the way, if you google my name Barbara Rebbeck, you can still find many of the articles I have written in my checkered past. I began this article with the following poem:
Oh, cruel sea,
You have taken my love away from me.
Why do you act with such elation?
While I suffer this horrid frustration.
Do you not feel any sensation?
Why do you act with such elation?
Oh, wretched sea,
You have taken my love away from me.
Why do you pound with such duration?
Can it be that in our civilization,
We have found no way to curb your strange elation?
Why do you pound with such duration?
Oh, torturous sea,
You have taken my love away from me.
Why do your depths spell culmination,
To a love that resisted all temptation?
You have drowned my love in your strange nation.
Why do your depths spell culmination?
Oh, wonderful sea,
You have taken my love away from me.
Can I not join him in your nation?
Take me, too and strong elation
Will fill my heart with a great sensation.
I shall join him in your nation,
Now!
I continue in the article:
Dear reader, if you have not yet thrown down this journal in disgust at the above poem, let me explain. This is how I wrote poetry in high school. It was very bad. I share this poem now with my beginning poets, and we laugh together. By the end of my dramatic reading of it, they are a laughing Greek chorus, shouting out the predictable and very bad, rhyme. How kind that English teacher was back then to give me "credit" for that poem, his only corrections were to red-ink two missing commas. Or was he kind? Did he know how to help me write poetry? Why didn't he suggest this poem should be hurled to the bottom of the wretched sea?
Good poetry is concrete, filled with beautiful imagery that evokes the five senses. To write poetry you need to read poetry. I was a poetry judge for the now defunct Detroit News/Free Press secondary school writing competition for many years. Writer/teacher Stephen Dunning headed up the poetry deliberations, recruiting over the years a jury of teacher/poets. We had a lot of fun, but were also appalled at how little students knew about what good poetry was. One year we kept track of the titles of many of the poems just to check for patterns. Below are some of those titles, also cited in the above article I wrote:
Poetry titles that did not win, place or show:
Absence
Adventure
Alone
Autumn
The Beauty of Life
Death
Despair
Destiny
Disillusionment
Eternity
Fate, etc.
Third place titles:
The Alley
The Bestiary
For Jimmy
Honey jar
Inside My Closet
Second place titles:
The Cactus
Cars in the Field
Creek Town, West Virginia
Elegy for Edie Sedgwick
Hygiene Monsters
The Roly-Poly
First place titles:
Broccoli Soup
Kudzu the Clown: Freak by Choice
Old Suede Shoes
Guinea Pig
To my hands
A simple test: try to conjure up or draw the first image that comes to mind from these titles. You should see it becomes progressively easier to see an image as the titles become more and more concrete. In good writing the reader moves from the concrete to the universal through strong images. By the way, my cruel sea certainly would have been jettisoned into the first abysmal titles, the losers with a capital "L."
When I work with newbies on poetry, I ask their teachers to have them do a great deal of poetry reading first before I get to class. The first day, I ask them each to share a favorite poem. They read it out loud and then we all discuss the poem. What is it that we like about that poem? What craft do we hear? In Sara Coyle's class, she had a big bulletin board that defined many of the important craft terms for writing that we could refer to. Students made lists in their writers' notebooks of each poem, the AUTHOR (students often forget this) and the craft. Choices ranged from Poe to The Midnight Ride of Paul Revere to some shape poems.  I led off and shared the poem, "the candy lady" from brown girl dreaming by Jacqueline Woodson. This poetic memoir won the National Book Award, the Coretta Scott King Award, and was a Newbery Honor Book. I pointed out her powerful use of the five senses, her mouth-watering list of candies and her beautiful description of slurping an ice cream cone. After hearing all the poems, our final list of craft looked something like this:
The Craft of Poetry
Story/Narrative/Theme/So what?/Point of view/Inspiration
Imagery/Metaphor/Simile/Double vision
Word choice/grammatical structures/Word economy
Concrete vocabulary
Specific Detail/Lists
Specific to the universal
3s (their favorite)
Use of the five senses
Parallel structure/Repetition
Sound: Alliteration/Assonance/Consonance/Onomatopoeia
Rhythm/Pattern/Rhyme/Stanza/Linebreaks
Hyperbole
Punctuation/Capitalization
Now we were ready, or so we thought. I threw them into the deep end by bringing in a pile of calendars that ranged from animals to vegetables. We started together with a photo of a bucket of ripe tomatoes. This was difficult. Where to begin? First efforts ranged widely as we conferenced the drafts as a group. Acrostics were tossed out. Too easy. Shape poems were only accepted with ripe vocabulary. I encouraged they search the internet for synonyms for "red." One student then added a Bolshevik tomato to his poem because his source said Bolshevik=red. He clung to that even after I did a brief lecture on the Russian Revolution, etc. It took the third revision to shake that image. It was time for intervention so I wrote and shared my own tomato ode, hoping to emphasize use of tomato words and synonyms, introduce the concepts of an ode, hyberbole and humor, and lead them into the territory of found poetry. It is so important that teachers write themselves. Mentor texts should come from everywhere. You can do it.
Ode to a Lush, Ripened, Tomato
My passion is a tomato,
blushing, sanguine squishiness.
Grown from tiny pale seeds
To a brilliant bulb of succulent juice
That drips from my teeth from a hungry bite
And spills from my lips and down my chin
in ruddy rivers.
If only I could run you through my twitching toes!
Oh, tomato,
You have survived the blights
Of blossom-end-rot
and anthracnose
and stink bugs.
Oh, brave ruby-raw vegetable,
Now you will be peeled, marinated, stewed, pureed, grilled, fried,
roasted, chilled, baked, stuffed, sautéed or gratineed.
You will take your red-faced role as the healthy hero of a mouth-watering dish of:
Mama Carolla's tomato bruschetta,
roasted jalapeno gazpacho,
heirloom tomato and onion quiche,
tomato salad with endamame succotash,
penne pasta with tomato, arugula and Parmesan,
linguine in fresh, thick tomato sauce,
tomatoes with cheesy queso fresco,
tomato chipotle chile sauce,
zucchini pepperoni pizza frittata,
tropical pineapple-mango tomato salsa,
Greek tomato orzo salad,
roasted cherry tomato chutney squash,
grilled summer tomato pizzettes,
tomato and spinach mac & cheese.
Oh, tomato, you vined, vermilion vixen,
I pledge my love to you alone.
Barbara J. Rebbeck
Lots of fun and a few laughs. I model my internet sources for synonyms, tomato diseases and fresh tomato recipes. The kids revise again. Then they conference individually with me.  A few final drafts:
Succulent Senses
Smooth as a silky duvet
Rough as sandpaper
Soft as a new towel
Emerald green
Sunflower yellow
Blood red
Acidic
Sugary sweet
Scrumptious
Earthy
Tangy
Savory
Diced on the cutting board
Thump
Thump
Thump
Thrown in a sizzling pan
Sizzle
Sizzle
Sizzle
Mixed in with pasta
Swish
Swish
Swish
Rehma Saeed
Standing On The Windowsill
Tomatoes ripen real rapidly
Red juicy and delicious
Even without any spices
Never, ever vicious
So squishy and smooth
Nothing can compare
To the big plump tasty tomato
Take a bite without a care
It tastes great in my salad
Yummy in my pasta as well
I can use it to make many different soups
Even when it's hard to tell
Oh, oh, oh my sweet tomato
A slice and a bash
For a good juicy salsa, so buy it
Layann Kashlan
Next they're on their own for a second calendar poem. The poems are spread out on the floor and they need to choose one that speaks to them. Find the poem in the photo. I stress looking for a point of view. Who is telling this story? If you look, you will usually find a natural poet in any group. Below you will find the poem Tariq Qahwash wrote based on this tiger photo: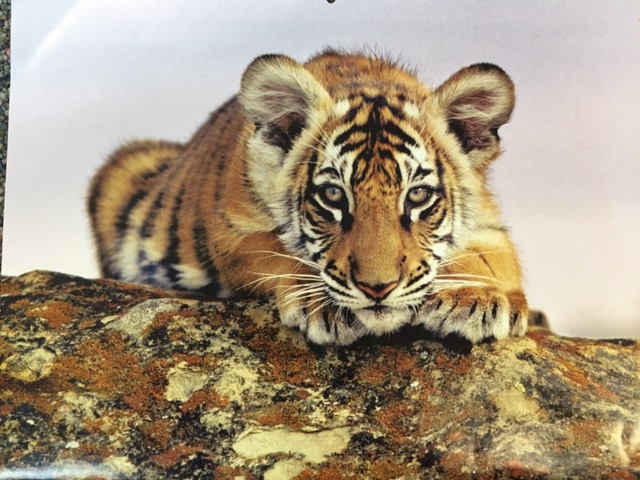 Ode to a Pouncing Tiger
Oh, orange tiger
Ready to pounce,
Sitting on a tree.
What are you
Looking at?
What do you see?
Oh, orange tiger
Your fur like molten
Golden, brown
With black stripes
As black as a waterfall
Of ink.
Striking through
Your snowy white
Stomach
Nice and neat.
Oh, golden tiger
So majestic and
Handsome.
Aware of your surroundings
Hungry
At night.
Ready to pounce
For a midnight
Bite.
Tariq Qahwash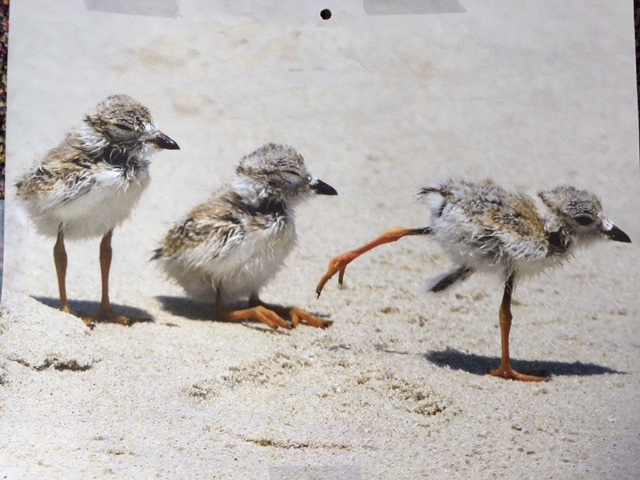 Flamingo
Fuzzy soft cute little birds.
Three of them in the sizzling sand.
One named Paps.
Second called Charles.
Third named James.
Paps' leg sticking out.
Charles asked, "What are you dojng?"
Paps answered, "Dreaming."
James said, "About what?"
He answered,
"About being a flamingo.
One that is standing still
Like a pole.
One that is bathing in the sun."
The two others said,
"Quit it, you are kicking sand in our eyes."
Amani Ahmad
Next we moved to the art of found poetry. If you are a teacher who deals in acrostics and haiku, you may think found poetry means writing poems that end up looking like ransom notes. Words are clipped out of text and taped together to hopefully make a message. But found [poems as a genre go far beyond this as can be seen in Annie Dillard's own collection of found poetry called Mornings Like This. In the Author's Note she says:
Poetry books seldom require explanation, but this one does. Excepting only some titles and subtitles, I did not write a word of it. Other hands composed the poems' lines-the poems' sentences. These are found poems.
The 6th, 7th and 8th graders had recently seen the movie, He Named Me Malala, the story of the courageous girl, Malala Yousafzai who had survived a gunshot to her head in Pakistan. They had all written letters to Malala and are hoping for responses soon. I always encourage students to reach out to the world with their writing. Here is one student letter:
Dear Malala Yousafzai:
Assalamualaykum. My name is Sineen Raslan. I watched your documentary; it was very inspiring and informative. I never knew you were named after someone who helped win when they were losing and when they lost hope she helped them find it. Congratulations on winning the Nobel Peace Prize, and being the youngest ever to receive it.
Before watching your documentary, I hated school (having to wake up so early every morning, going to school, working hard, then at the end of the day having to do homework that is due the next day.) After watching your documentary, I realized there are worst things like: hunger/starvation, homelessness, over-population, death, diseases, death from diseases, illness, cancer, and so much more. Not allowing girls to go to school is crossing the line and unfair. As you said, "One child, One teacher, One book, and One pen can change the world." When I was younger all I ever dreamt about was not going to school, but now I can't even imagine it. Thank you for taking the time to read my letter. I hope you have time to write back!
Sincerely,
Sineen Raslan
With these letters in my heart, I bought the memoir, I Am Malala, written by Malala Yousafzai with Patricia Mc Cormack. I decided to have the kids try writing found poems based on a light passage from the text. I chose a paragraph in which Malala describes playing games with her siblings:
At home in Pakistan, the three of us ran like a pack of rabbits, in and out of the alleys around our house; we played a chasing game like tag, another game called Mango, Mango, a hopscotch game we called Chindakh (meaning "Frog"), and Thief and Police. Sometimes we rang the bell at someone else's house, then ran away and hid. Our favorite, though, was cricket. We played cricket day and night in the alley by our house or up on the roof, which was flat. If we couldn't afford a proper cricket ball, we made one out of an old sock stuffed with rubbish; and we drew wickets on the wall in chalk. Because Atal was the youngest, he would be sent out to fetch the ball when it sailed off the roof; sometimes he grabbed the neighbors' ball while he was at it. He'd return with a cheeky grin and a shrug. "What's wrong?" he'd say. "They took our ball yesterday!" p.13.
Now the rules for writing found poetry:
Found Poetry
Choose a rich prose passage.
Read and select sentences, phrases or words. (Cut out or highlight or circle.)
Re-arrange the selected words to make a poem that has meaning. Do not add your own words, but you may change word endings.
Title your poem with words from the text.
Cite the source and author of the text after your name at the bottom of the poem.
Identify and annotate craft in your found poem.
Pack of Rabbits
Playing at home in Pakistan
Like a pack of rabbits
We play games like
Tag
Mango
And cricket
Drawing wickets on the wall
Sometimes ringing the bell
At someone's house
Then hiding behind the bushes
Laughter day and night
Day and night
Day and night
Amani Ahmad
From I Am Malala by Malala Yousafzai and Patricia McCormick, p. 13.
nightandday
the three of us play tag
running like rabbits
free as birds
hopscotching
cheeky chasing
in the alley
by our house
up on our roof
cricket is our favorite
the ball a sock
stuffed with rubbish
wickets on the wall in chalk
day and nightnightand daydayandnightnightand day
Barbara J. Rebbeck
From I Am Malala by Malala Yousafzai with Patricia McCormick, p. 13.
Next we took on the lead water tragedy in Flint, Michigan using text from the title piece in Time magazine called The Toxic Tap. Sara Coyle decided to focus her students on a sidebar piece written by the activist, Michael Moore called, 'This Is A Racial Crime'.  They intend to send their poems to middle school students in Flint so they are trying for hopeful endings to their poems as uplifting messages. Here is her teacher model poem which she annotates, noting craft as the use of 3s, participles, repetition and alliteration. Go, Sara!
Dreams
No more
poverty in Flint
Spreading dreams of prosperity
No more
Schools left behind
Abandoning broken dreams
No more
Families poisoned
Sending dreams to drink
 Sara Coyle
From Time: Viewpoint 'This Is A Racial Crime' by Michael Moore, p. 39.
The American Middle Class
Our grandparents worked hard.
They prospered.
They built the American Dream.
They spread it to the rest of the nation.
But then
Wall Street
And General Motors
Came in.
They cut our
Jobs
Schools
Population.
Those who didn't escape
They got their water
Poisoned.
The governor kept quiet
And let the people of
Flint
Drink the poison.
The people of Flint then said,
"No Flint River.
"No Flint River."
"No Flint River."
Saareya Sahlool
From Time: Viewpoint 'This Is A Racial Crime' by Michael Moore, p.39.
Water and poems are on their way to Flint thanks to Sara Coyle and her students at the Beverly Hills Academy! And hopefully they've learned a thing or two about writing poetry. Teachers once aware of found poetry see many classroom applications. Found poems can be very useful in novel reading. They can describe characters or settings, given the right passages. They can follow plot and theme, too. Across the curriculum they can describe historical figures or events. In science they can describe all sorts of creatures as in the poem below written by third graders from a passage from a bird manual about cockatiels.
 Cockatiels
Shrill voices strike
Whistling
Imitating
Mimicking
Tame and trusting
Lovable companions form
Deep attachments
Active
Gnawing
Shredding
Third graders in Room 216, Waterford Village
From Cockatiels, A Complete Pet Owner's Manual, by Wolter, p.22.
A big thank you to Sara Coyle and her 6th graders at the Beverly Hills Academy for all their hard work. See Photos for more of their poetry week. May you find your poetic voice in found poetry! Enjoy!
Barbara J. Rebbeck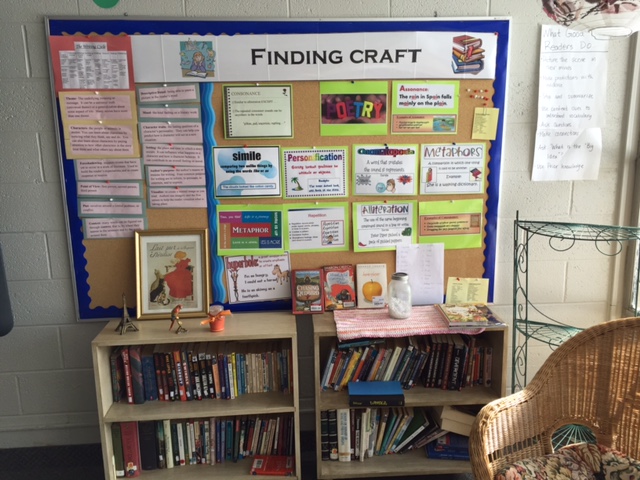 ,